Catching Up with Our 2020 Music Scholarship Winners
Or
What I Did Over the Summer
Now that summer is over and school is back in session, it's time to check in with our 2020 Summer Music Scholarship winners. The Hanover Wind Symphony offered two scholarships for talented musicians to attend summer camp. The quarantine did not stop these eager musicians from getting a fine education. When talking about their experiences, both were very excited about their instruments, what they had learned, and how much their playing has improved. They are both very serious about music and very mature musicians – able to speak technically about their instrument and about music in general. They spoke so fast they could hardly contain their enthusiasm!
High school sophomore Michael Minenna from Rockaway Township, NJ, the junior division winner, spent a week in August at the Eastman Trumpet Online Workshop - a five-day online seminar limited to 21 performers, hosted by Rochester Philharmonic Orchestra musicians Douglas Prosser and Wesley Nance, featuring San Diego Symphony Principal Trumpet Christopher Smith. The Eastman School of Music, part of the University of Rochester in New York, is one of the finest music schools on the east coast.
Why the Eastman Trumpet Workshop? Mike's private teacher said it was THE place to go! He worked with all three teachers, getting different perspectives and teaching styles. Mike feels he is a much stronger, more solid player – no longer sounding like a high school student. Playing in the upper register is more comfortable and he received a deeper understanding of double-tonguing which really improved his technique in this area.
At the end of the session, the workshop participants produced a virtual trumpet ensemble video together which can be heard below. You can follow Mike in the middle row on the left side, with flames in the background. He wanted to have some fun by recording in his brother's old bedroom with Hot Wheels inspired flames!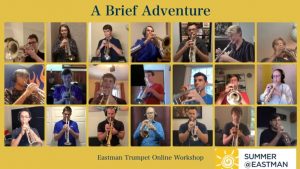 High school senior Zachary Solano from Ledgewood, NJ, the senior division winner, decided to take some private lessons from four tuba professionals instead of attending a camp. He used his scholarship to help search for colleges to attend next year. His list of teachers is quite impressive:
• Mike Roylance – New England Conservatory, Boston University, Boston Symphony Orchestra
• Dennis Nulty - Oberlin Conservatory, Detroit Symphony Orchestra
• Øystein Baadsvik - World renown tuba soloist
• David Earll- Ithaca College
Each teacher gave him different pointers on playing such as exercises, articulation methods, and playing in the high range, which he may not have gotten from attending a camp with one teacher.
How was the virtual experience? It was never on Zach's radar but now he can have a lesson with someone from anywhere in the world - including Norway!
Zach's playing has improved tremendously on every level after his scholarship lessons. Everything from technique to projection to sight-reading to being able to look at a piece of music and understand what it's saying.
The over-arching lesson: There is no one correct way to play the tuba. You need to find your sound, your style of playing. The overall advice: Create your own opportunities for a career. Tuba is not a popular solo instrument nor has it been a member of the orchestra for very long.
His career ambition is to play the tuba anywhere! Zach would love to bring the tuba to more things and innovate it into new areas.
Zach is really looking forward to playing with a full ensemble again – especially with the HWS this season!
Here's Zach having a little fun during the quarantine performing all four parts to When I'm 64.