2022 Scholarship Winner Michael Minenna to Perform with HWS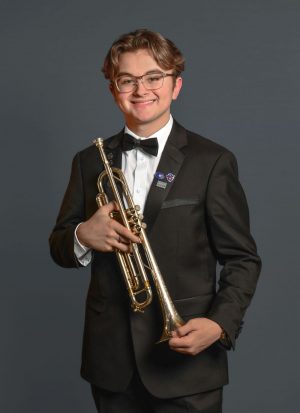 Get ready for some extraordinary playing this month! Michael Minenna of Rockaway Township, NJ, our 2022 Summer Music Scholarship Winner, will be performing with the Hanover Wind Symphony (HWS) on Wednesday, October 26, 2022 at Memorial Junior School in Whippany. He will be playing Alexander Goedicke's Concert Etude on his trumpet. Michael was also our 2020 junior division scholarship winner – talent that cannot be held back!
Michael, who is a senior at Morris Knolls High School, is excited to perform with the HWS on the 26th. This will be his first time performing as a soloist with a concert band. At school he plays in the concert band and jazz band, is Drum Major of the Golden Eagles Marching Band - for the third year in a row – and is a member of the Tri-M Music Honor Society.
Michael has successfully auditioned for the North Jersey Area Band Wind Ensemble, Region I Symphonic Band and Orchestra, and the New Jersey All-State Symphonic Band and Orchestra. He can be seen around town playing  in parades, and playing Taps for  flag retirement ceremonies and veteran funerals.
He opted to use his scholarship to attend a one-week intensive session at the Interlochen Arts Camp in Michigan where he performed in master classes and the trumpet ensemble. He learned so much about improving his sound, that he would like to go back next year for the full summer program.
While at Interlochen, Michael visited the University of Michigan, one of his choices for college. He is considering pursuing a career in a symphony or military band, or his other interest, biology. Either way, music will always be part of his life.
Mark your calendar for Wednesday, October 26 at 7:00 pm at Memorial Junior School in Whippany!